And What Do We Do With Witches?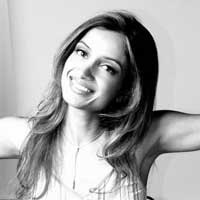 A Muslim pop singer has been forced to hire bodyguards to protect her during a visit to Britain next month after she received a string of death threats from religious extremists.

US-based Deeyah is due in London next month to promote a new single and video, released tomorrow. But the track 'What Will It Be?' has already outraged hardline Islamists here as it promotes women's rights.

Her performances with a clutch of male dancers and revealing outfits have also deeply offended many Muslims. In one scene in her latest video, the singer drops a burqa covering her body to reveal a bikini.
Oh the horror!
The 28-year-old singer claims that in the past she has been spat upon in the street and told that her family would be in danger if she did not tone down her work. The situation is now so bad that Deeyah feels she cannot visit Britain without protection. 'I can no longer walk around without specially assigned bodyguards' . . . I would be lying if I said abuse from religious fanatics didn't upset or scare me.

. . .

'I have been on the verge of a breakdown. Middle-aged men have spat at me in the street and I have had people phone me and tell me they were going to cut me up into pieces. I became this figure of hate simply because of what I do and wear.'
More Deeyah biographical info
here
.
I can't tell you whether I like her music, because I can't find any samples on the web and she's not on iTunes. Then again, it doesn't really matter. Now that Muslim extremists have been granted an absolute veto power over anything "offensive," I don't really expect to be seeing Deeyah at the top of the Billboard charts anytime soon.
Here's some lyrics i was able to find, from the offending song, "What Will It Be."
From the land of the free to the jewel of the empire
Does the truth only come from the top of a holy man's spire?
From three paces back, covered head to toe
Are the rules just for the masses and written just for show?

. . .

(chorus)
Do you stand up, lay down or follow?
What will it be?
Will it all be the same again tomorrow?
What will it be?
You can claim it but the words are hollow
Do you stand up, lay down or swallow?
What will it be?

. . .

We don't take it lightly when you threatinin women,
How you have so much hate and faith in religion.
Fake in the system, need to take a break wit the dissin,
Before you end up in the lake where they fishin.
Hearin bout the muslim madona, asian J Lo,
Lookin for drama (OK) if you say so.
If you that religious and not with trendy clothes,
Then what you doin' even watchin' videos.
I think this chick has a death wish. But as Oprah might say,
You go girl!
Update: Listen to Deeyah here.
[cross-posted at A Western Heart]
Posted by annika, Feb. 19, 2006 |
TrackBack (0)
Rubric:
annikapunditry