Match Point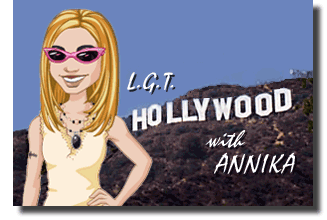 I got to see Woody Allen's Match Point today during its limited release. The movie is showing on only a couple of screens in the whole country. (I love L.A.) I saw it at the new Century City AMC 15 theater, right by where I used to work.
On a side note, the City of L.A. has finally decided to get rid of "little" Santa Monica Boulevard. For those of you unfamiliar with this idiosyncratic roadway, "little" Santa Monica ran alongside "real" Santa Monica from West L.A. to Beverly Hills. It's a very busy east-west route, and there was no logical reason for the redundancy. It looks like when they're done it will be twice as wide and much less confusing for the non-native driver. Good job.
So anyways, the one o'clock bargain matinee was still eight-fucking-fifty dollars at the Century City Theater, which makes me wonder what full price is. It was a full house. I'm pretty sure I was the only shikse in there too. And the youngest. It was a Woody Allen picture, after all.
I can't ruin the movie for you, because I want you to see it. The ending is really cool. I give it four stars: "liked it a lot." Woody can still make movies. I will say this: it's not about tennis. It's mainly a love triangle thing.
If you liked Closer, you'll like Match Point. The two movies are similar in many ways. Both have main characters who are feckless Brits, while Match Point has the added advantage of not having Natalie Portman in it.
Scarlett Johansson was awesome as expected. Her character is an unlikeable but sexy bitch. It's a nuanced performance. There are a lot of close-up shots, and you can't fake that kind of acting. The girl's got amazing talent.
The central theme of Match Point is the role of chance in life. Like how one little chance occurrence that you have no control over, and maybe don't even know about, can make a huge difference in your life. It made me think about how I might be married right now if a certain guy had been in the office instead of out when I called him three years ago. I'm glad he was out.
Another thing the movie reminded me about is how much I hate secret relationships. I've been in a few and they never ended well. Any time you have to keep a relationship secret, it's a sign that you probably shouldn't be in it. This includes work relationships, "his-mom-hates-you" relationships and of course cheating.
So there you go. I've started off the year with two pieces of good advice for you. Go see Match Point, and don't get into any secret relationships.
Posted by annika, Jan. 1, 2006 |
TrackBack (0)
Rubric:
Let's Go To Hollywood