The Becker Stance
Wherein i toot my own horn and pretend like i'm an expert, just a little.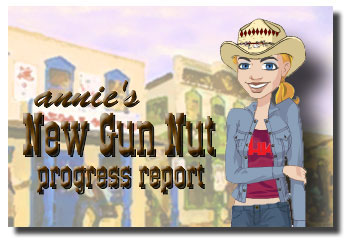 i'm ready to say it now. After only eight week's experience shooting pistols, i'm pretty confident that i can take down any assailant at 25 yards, given a quality firearm, and assuming i don't freak out when the time comes.
i was uncomfortable making that boast before now, because i'm basically a self-taught shooter. But everytime i go to the range i'm amazed at how much other people suck at pistols. i look around at the other targets and the holes are shotgunned all over the place. Many of these guys are law enforcement types, too. i consistently outshoot my boyfriend, who learned how to shoot in the military. At the ranges i go to, i've noticed most guys like to shoot at 7 yards predominately. i've gotten to the point where 7 yards is no challenge for me anymore, and i shoot that range with my prescription glasses off.
Am i that good or are other people just that bad? i have no idea. i'm not going to go tap a stranger on the shoulder and say "hey, why do you suck so bad?" Especially if that other guy is armed. So i'm left only with my theories.
My first theory is that people look at aiming and pulling the trigger as two separate and sequential actions. i think that's my boyfriend's problem. He takes aim, then he pulls the trigger. In my humble novice's opinion, i think you have to concentrate on aiming the whole time, and the trigger pull should be slow and almost unconscious.
i read somewhere that you should be surprised when the gun fires. i also harken back to a book i read long ago, called Zen in the Art of Archery. In that book the Zen master constantly harped on letting the arrow go only as a natural unconscious act. Like snow falling from a bamboo leaf, the arrow should fly when it's ready, no sooner and no later.
i think the same philosophy can be applied to trigger pulls. So i take aim and concentrate on lining up the sights properly, keeping the gun as steady as i can. As i'm doing this, i begin pulling back on the trigger. Once i begin that action i try not to think about it anymore. i especially try not to anticipate the shot. i keep my mind focused on the sight picture and when the shot happens, it happens. That's one reason why i hated the Glock. i need a heavier trigger pull because my squeeze is so slow.
Another theory is my stance. i've done some research about the Weaver stance, but i never really felt comfortable using it. i think it allows for too much movement in the elbows, especially since it requires the muscles of both arms to be working against each other. Here's a good site that describes the various stances.
My stance is more like the modified Weaver described as the Chapman in that website. First i take a 45° stance with my left foot forward (i'm right handed.) i lock the elbow of my gun arm and point the elbow down. Using my left hand, i then pull the gun arm toward my body until it lines up on the target. i also pull my right shoulder blade rearward until it stops.
The main difference in my stance is that i place my left hand under the grip, palm up. The fingers of my left hand go around the outside of my right hand, instead of covering the fingers of my gun hand. i think this allows my left hand to support the weight of the gun better, and also makes it easier to pull my right arm against my body.
Another advantage to my hold is that it gets my left thumb out of the way. Using the conventional hold, i once noticed a temptation to use my left thumb to assist my trigger finger as i got tired. My new method eliminated that temptation.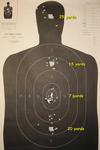 So does it work? i'll let you be the judge. Last weekend, i shot the target on the right using a Sig Sauer P226 in .40 S&W. The cartridges were Magtech 180 gr. FMC, which have a muzzle velocity of 990 feet per second. As you can see, i was least accurate at 25 yards, aiming at the head. Actually, i'm better with the HK at that range. i like to leave a target like that out there for a while so the other suckers at my range can see it and be properly impressed, before i swagger out of there.
Posted by annika, Oct. 6, 2005 |
TrackBack (0)
Rubric:
New Gun Nut Stuff