New Gun Nut Progress Report II
Me and my roommate Megan tried two more pistols today, both Smith & Wesson. Here's my novice review.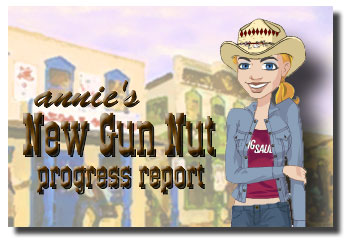 The first was the venerable Smith & Wesson Military and Police .38 special. The particular model we rented was the Model 64. Someone told me that this gun is used by California prison guards, but i have not been able to verify that information.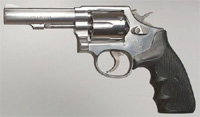 i chose this revolver because it's what i always pictured when i thought of the word "gun." The design dates back to 1899. It's simple to operate and easy to shoot, but i didn't like the sights. The rear sight is really a groove along the top of the cylinder. i had trouble lining it up with the front sight in the low light of the range, and consequently i shot worse with the .38 than i have with any other gun.
The S&W 64 retails for $583, but i wouldn't buy it. Here's what Dirty Harry said about .38 calibers in The Enforcer:
Kate: You're 'cold bold Callahan with his great big .44'. Every other cop is satisfied with a .38 or a .357. Why do you have to carry that cannon for?

Harry: So I hit what I aim at, that's why.

Kate: Oh I see. So that's for the penetration.

Harry: Does everything have a sexual connotation with you?

Kate: Only sometimes.

Harry: The .357's a good weapon, but i've seen .38 slugs bounce off of windshields. That's no good in a town like this.
i heard somewhere else that the .38 special cartridge is really good for punching holes in paper, but not much else. The casing is the same size as a .357 magnum, except it's full of wadding, according to the range dude i talked to. i know because some wadding flew up and landed on my head. i thought it was a bug at first, but when i put my hand through my hair it was like a gray powdery chunk of dust. Gross.
The next gun we tried was the Smith & Wesson 4006TSW, which shot the .40 S&W cartridge. Now this was more like it. i had been curious about the .40 S&W round, because i'd been told that it had more power to stop an attacker than a 9mm, while still being easy on the arm. i found the kick of this gun comparable to the Sig and Browning 9 millimeters i loved so much.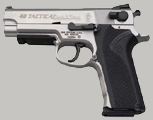 i also like the fact that it had an actual safety, unlike the Sig Sauers, which have none.
Megan and i split a box of 50 bullets, and i shot 17 rounds at ranges of 7 and 15 yards. i kept all but three inside the 9 ring, which for me is okay. Then i switched to the head at 25 yards for the last eight rounds, and missed only once. So i'd say this is a pretty accurate pistol.
Another neat feature of this weapon was the rack on the bottom of the barrel, which can be used to attach a flashlight or a laser sight. i love accessories!
This might be the all around defensive weapon for me. It satisfies a number of requirements i have. Good power, reliable (it jammed only once), it has a safety, it's accurate, not too much recoil, has a comfortable grip, and holds at least ten rounds. i also like that it's made in America, and the stainless steel is supposed to resist corrosion.
i don't like the sights as much as the Sig Sauer's three dot system, which is really easy for me to see. The Smith & Wesson has a white dot on the front sight, but the rear sight is all black. i like the three dot system better because i can tell whether the gun is lined up from left to right by judging if the three dots are equally spaced apart. i can't do that on the 4006 because i only see one dot.
i don't think they make this model anymore. i picked up a Smith and Wesson catalog for 2005 and the closest thing they had with a 4 inch barrel was the model 410, which doesn't come in stainless steel. But i'm not ready to buy anything yet anyway. There's plenty of other pistols i need to sample first.
Update: Boone Country wrote a spirited defense of the .38 special way back in 2003 that is worth reading.
Posted by annika, Sep. 4, 2005 |
TrackBack (1)
Rubric:
New Gun Nut Stuff