Wednesday Is Poetry Day: Cole Porter
As i did last year, in honor of Cole Porter's birthday on June 9th, today's poem is a song lyric.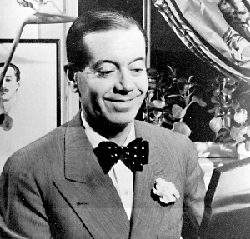 Paris Hilton's sexy new commercial for Carl's Jr. restaurants features the heiress washing a car to the music of Cole Porter's famous "I Love Paris."
Everyone knows the words to that song, written in 1952, for the musical Can-Can, which ran at Broadway's Schubert theater for 892 performances.
That song always reminds me of one night in Paris a few years back, stumbling back to my hotel in the Latin Quarter after a great drunk, smoking a Gitanes and mumbling the words in order to keep awake and upright.
"God... Oh God... do i love Paris... Because my room is near..."
But the same man who wrote I Love Paris, also wrote the following lyric, which i quote for you all as you try to decide where to spend your summer vacation this year.


See America First

Of European lands effete,
A most inveterate foe,
My feelings when my camp I greet
Are such as patriots know.
Condemning trips across the blue
As dollars badly dispersed,
I hold that loyal men and true,
Including in the category all of you,
Should see America first,
Should see America first.

All hail salubrious sky,
All hail salubrious sky.
Observe when I invoke the sky
It echoes reassuringly
That one should try to see America first,
To see America first.

Of course it's really not the sky,
But just a repetition of his battle cry,
To see America first,
To see America first,

So ev'ry true American,
Whether right or red or black or tan,
Should push this patriotic plan
To see America first.

See America First
was the first Cole Porter musical produced on Broadway, back in 1916. He went on to write twenty-three Broadway shows over five decades, and something over 800 songs. According to Robert Kimball's
The Complete Lyrics of Cole Porter
, the above lyric for the title song was changed to a more "Cohan-esque" version for the actual show. Hard to imagine old George M. finding fault with the original, though.
Posted by annika, Jun. 8, 2005 |
Rubric:
Poetry