Now We're Talkin' Real Pizza
My previous attempts at homemade pizza dough didn't turn out good at all. The bottom was never crispy enough, and the toppings made the top soggy. Boboli was a reasonable alternative, but it's not real pizza. So i was on the lookout for a better way.
Here's what came out of the oven tonight.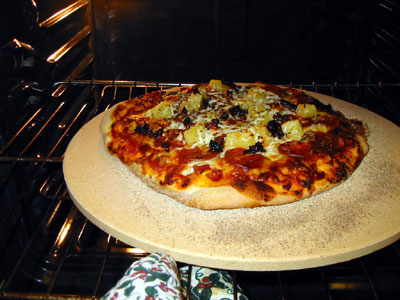 The secret is the pizza stone. i can't emphasize enough how essential this kitchen item is. Stick it in the oven first and preheat that bastard up to 500°, then sprinkle some cornmeal on it and slide the pizza on top. Then turn the heat down to 425° and cook for 18 minutes.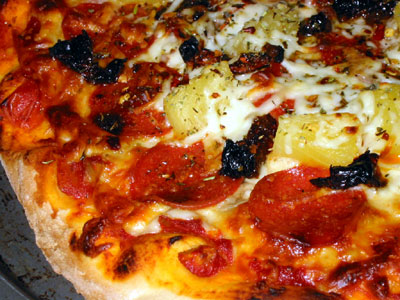 That's mozarella, sun-dried tomato, pepperoni, mushroom, pineapple and crushed red pepper.
Perfecto. Bellisimo. Molto buono. Grazie T.S.!
Posted by annika, May. 7, 2005 |
Rubric:
Arts