ANZAC Day
Happy ANZAC Day to all my visitors from Australia and New Zealand! ANZAC stands for Australia New Zealand Army Corps, the colonial force that was sent to support the empire during WWI, most notably at the infamous battle of Gallipoli. The holiday mirrors our own Memorial Day.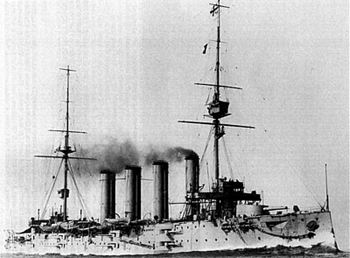 James at A Western Heart posts about his great grandfather, a gunnery officer on H.M.S. Good Hope, the British flagship that went down on 1 November 1914 at the battle of Coronel. The opposing German force contained the original S.M.S. Scharnhorst and Gneisenau (not their more famous WWII namesakes). Scharnhorst hit Good Hope with her third salvo, and the older ship's magazine exploded twenty minutes later. All hands were lost.
A summary of Coronel is here.
Posted by annika, Apr. 25, 2005 |
Rubric:
History