The Great Moussaka Experiment 2005
annika's Great Moussaka Experiment 2005 is underway as i write this. Recipe from my Greek roommate's mom. Fingers crossed. Pictures to follow.
Here it is.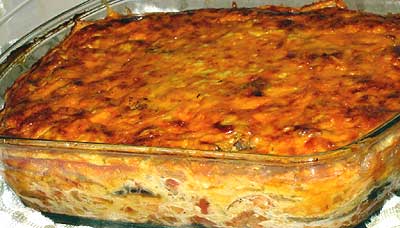 The result was a little disappointing. Nowhere close to being as good as Charissa's mom's. After some dispute, we decided to make it a vegetarian moussaka, but i still think it needs the meat filling. i sliced the eggplant too thin for one thing. Also, there was too much liquid, so we should have used a slotted spoon to add the filling. The cheesy top crust was the best part though.
Posted by annika, Apr. 11, 2005 |
Rubric:
Arts