Agnus Dei
Agnus Dei, qui tollis peccata mundi,
Miserere nobis.
Agnus Dei, qui tollis peccata mundi,
Miserere nobis.
Agnus Dei, qui tollis peccata mundi,
Dona nobis pacem.
[traditional, Agnus Dei]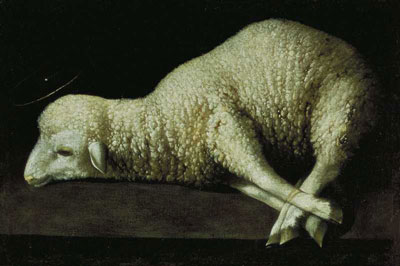 From the sixth hour until the ninth hour darkness came over all the land. About the ninth hour Jesus cried out in a loud voice, "Eloi, Eloi, lama sabachthani?" -–which means, "My God, my God, why have you forsaken me?"
When some of those standing there heard this, they said, "He's calling Elijah."
Immediately one of them ran and got a sponge. He filled it with wine vinegar, put it on a stick, and offered it to Jesus to drink. The rest said, "Now leave him alone. Let's see if Elijah comes to save him."
And when Jesus had cried out again in a loud voice, he gave up his spirit.
At that moment the curtain of the temple was torn in two from top to bottom. The earth shook and the rocks split. The tombs broke open and the bodies of many holy people who had died were raised to life. They came out of the tombs, and after Jesus' resurrection they went into the holy city and appeared to many people.
When the centurion and those with him who were guarding Jesus saw the earthquake and all that had happened, they were terrified, and exclaimed, "Surely he was the Son of God!"
Many women were there, watching from a distance. They had followed Jesus from Galilee to care for his needs. Among them were Mary Magdalene, Mary the mother of James and Joses, and the mother of Zebedee's sons.
[Matthew 27:45-56]

Ich bin's, ich sollte büßen,
An Händen und an Füßen
Gebunden in der Höll'!
Die Geißeln und die Banden
Und was du ausgestanden,
Das hat verdienet meine Seel'.
[Christian Friedrich Henrici (Picander), St. Matthew Passion (libretto)]

Fac, ut ardeat cor meum
in amando Christum Deum
ut sibi complaceam.
Sancta Mater, istud agas,
crucifixi fige plagas
cordi meo valide.
Tui Nati vulnerati,
tam dignati pro me pati,
poenas mecum divide.
[Jacopone da Todi, Stabat Mater]
Posted by annika, Mar. 25, 2005 |
Rubric:
Faith