Major League Bloggers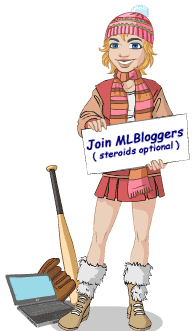 i've started a fantasy baseball league for bloggers on Yahoo! The League is called MLBloggers (Major League Bloggers, get it?).
It's a rotisserie league with a non-live draft. Rotisserie is cool because it's less time consuming than head-to-head leagues. You can tinker with your line-up as much or as little as you want.
So far ten bloggers have signed up:
Dawn Summers' of Clareified has the East Coco Beach Metropolitans;
Victor the Rat-Boy of Publius and Company has the Rats of Chaos;
Ted of Rocket Jones has the Rockets;
Paul of Sanity's Edge has the Sanity's Edge... ers;
Matt of Irreverent Probity has the Biloxi Turds (eeew);
Greg of The End Zone has Hank's Homey's, and explains the name thusly;
Zombyboy of Resurrection Song has the Zombyesque Zombies;
The Maximum Leader of Nakedvillainy has the Bashers;
Physics Geek of Physics Geek has the Physics Geeks;
And then there's my own annika's A's.
There's room for two more bloggers in the league. If you wanna join Major League Bloggers just shoot me an email and i'll send you the password. You have to have a Yahoo! id to sign up.
Fantasy baseball is a grat way to follow the season, and it's fun to get interested in different players that you wouldn't normally care about if they're not on your hometown team.
Oh, and as an added inducement, i'll award a championship stein from cafepress to the winner at the end of the season. As if bragging rights weren't enough!
On a related note, don't forget this Wednesday is the annie's journal blogversary poker party. Details will be posted later on.
Posted by annika, Mar. 6, 2005 |
Rubric:
On The Blogosphere
&
Sports