Welcome To The Jungle, Randy!
Okay Randy Moss is a punk, but he's a silver and black punk now, so that makes him okay in my book. And he's an awesome receiver, the real deal. Hopefully Davis won't decide to bench him like he did with some other stars i can name: Allen, Brown, Rice.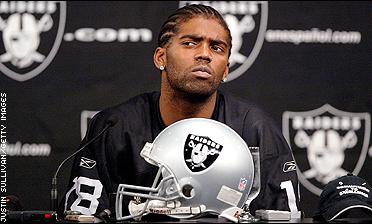 There are always guys who have that certain something that makes you know they will end up as Raiders someday. Kevin Greene had the hair. Sapp and Romo had the 'tude. Rice had the Bay Area love. And Moss has the bad-ass. When he faked dropping trou at Green Bay last year i said to myself, that guy belongs in Oakland.
Welcome Randy. The black hole is gonna love you!
Posted by annika, Mar. 3, 2005 |
Rubric:
Sports