Robot Week Coda
Owing to the fact that i have a big project due Monday, it is highly unlikely that i will be blogging this weekend. i'm mostly done with the assignment, but i need to meet with my partner and go over it with a fine toothed comb, then make sure all the cites are correctly formatted, which takes forever.
Therefore, i think we'll have to say goodbye to Robot Week one day early.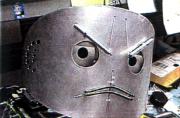 And if anyone leaves a "thank God" comment, i will retaliate by designating next week otorhinolaryngology week.
As a final farewell to Robot Week, 2005, please go check out this cute illustrated story i found, by a teacher named Jeanette Kachkowski. It will bring a smile to your Friday afternoon, i promise.
Posted by annika, Feb. 25, 2005 |
Rubric:
On The Blogosphere