The Smartest President We Ever Had Poll
Here's the final results for the poll. Not much i can say except that there is something wrong with the way we teach American history in this country.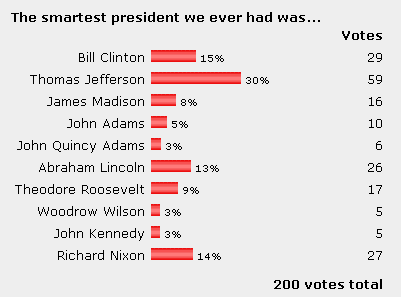 The reason i came up with this poll was because i've heard more than once from Clinton admirers that he's "the smartest president we ever had." That's just silly.
Sure, Bill Clinton is a smart guy. But i was trying to make a point by putting him on the list just above Thomas Jefferson. Besides having written the most important founding document in the history of the world, TJ was also an architect, naturalist, founder of the University of Virginia and designer of its campus and curriculum, Latin and Greek literate, etc. etc. etc.
Yet, inexplicably, 15% of voters thought Thomas Jefferson was not as smart as Bill Clinton. How is that possible? And what about the other presidents whom those 15% also rank lower?
Theodore Roosevelt wrote a four volume history of the American West, a history of the Naval War of 1812, biographies of two American statesmen, and many other books. What has Clinton written? A memoir.
Woodrow Wilson wrote a five volume history of the American people, a biography of George Washington, and an important work on congressional government among many other books. Besides his law degree, he had a Ph.D. in history and political science.
James Madison? Father of the Constitution. Abraham Lincoln? Self-taught, and have you ever read the Lincoln-Douglas debates? Could you imagine language like that coming out of Clinton's mouth?
Who's the smartest president? That's a subject for legitimate debate. But given the competition, Clinton shouldn't make anyone's cut.
Posted by annika, Jan. 5, 2005 |
Rubric:
History