Hannes Bergstroem's Story
The story of how Hannes Bergstroem was found really got to me.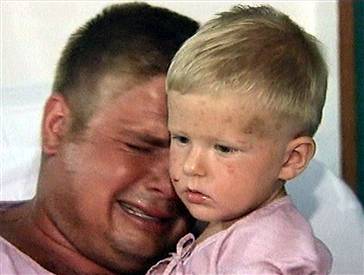 A 2-year-old boy who was found dazed and alone on a roadside in the wasteland of a tsunami-devastated Thai resort was reunited Tuesday with his uncle, who spotted the child's picture on the Internet.

The boy, identified by his uncle as Hannes Bergstroem, was found Sunday night on a road in Phang Nga province near the beach resort of Khao Lak, about 60 miles from the island of Phuket. He was taken to Phuket International Hospital where the staff posted pictures of the blond-haired boy with red spots all over his face from mosquito bites on its Web site on Monday. They also published his photo in a local newspaper.

. . .

A man, who identified himself only as Jim, told the Associated Press on Tuesday in a telephone interview that he found his nephew after he saw his picture on the Web.

'When I saw Hannes on the Internet, I booked an air ticket to come here in less than five hours,' said Jim, who rushed to the Phuket hospital on Tuesday from Chonburi province in Thailand, hours away from Phuket, where he was staying. 'This is a miracle, the biggest thing that could happen.'

Hospital staff said the boy had been babbling but workers did not know what language he was speaking They thought he might be Swedish because he was enthusiastic when a man spoke Swedish to him.
Little Hannes was
reunited with his father
today. That's them in the heartbreaking picture above.
On Wednesday, a Swedish toddler, Hannes Bergstroem, was reunited with his injured father at a Thai hospital, days after being found wandering alone in the wreckage. The 2-year-old's uncle had spotted the child's photo posted on the Web by another hospital and claimed him Tuesday, setting up the reunion with Hannes' father, Marko Karkkainen.

But Hannes' mother, Suzanne Bergstroem, was still among some 5,000 people missing in Thailand.
Posted by annika, Dec. 29, 2004 |
Rubric:
Faith