Why The 'Ell Not, You Bloody Sons-A-Bitches!
There's no question in my mind that Kofi Annan is on his way out as the U.N.'s generalissimo. But who should take his place? Perhaps you can guess who i would like to see as the next Secretary General.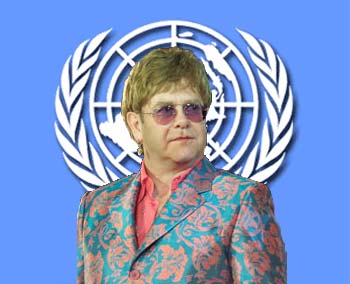 i'm totally serious about this. Totally serious. Let's look at Elton John's qualifications, shall we?
He couldn't be any worse than Kofi Annan.


He's British, and Great Britain is in the United Nations.


Even if he's not necessarily anti-American, he is sufficiently anti-Bush.


He sometimes wears funky sunglasses.


He's friends with Tim Rice.


He can sing good.


People seem to really like him.


i think he's met the Queen.


He knows how to play the piano.


He could ask Dionne Warwick (who knows a bunch of psychics) to be one of his advisors because... well... that's what friends are for...


He's got spunk.


He probably looks good in a blue beret.


It's the way that he move, the things that he do, wo-o-o.


And i'm sure there's a bunch of other things that make him qualified for the job, which i can't think of right now.
Which is my point, of course. What the heck does a Secretary General of the United Nations do anyway? And couldn't anyone do it? And if anyone can do it, why not get Elton John? i think it's a great idea. Wouldn't he be just as good as anyone else?
Please join me in this crusade. Now that Dan Rather is quitting, i need a new crusade. You can help. Next time the subject of the United Nations comes up at work, mention to your co-workers that you think Elton John would make an excellent Secretary General. Word will undoubtedly spread to the right people. Also, if you like to call radio talk shows, why not mention it on the air? That'd get the word out even faster.
If you have a blog, feel free to copy and post my sidebar ad, which you'll find if you scroll down my main page. And i guess the best way to help would be to email the United Nations itself. Their address is inquiries@un.org.
The motto of my new grass-roots movement will be "Why the 'ell not you bloody sons-a-bitches!" Which is what i would imagine Sir Elton would say if he were on board with this whole thing. Or if he knew about it at all. Which he doesn't, since i have no idea how to contact him. But i'm sure he'd be okay with it, because the idea is sure to catch on like wildfire.
Posted by annika, Dec. 4, 2004 |
Rubric:
annikapunditry