Holiday Gift Advice For The Jazz Lover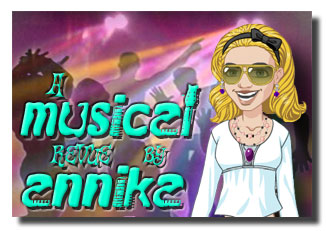 Since both of my parents are big fans of traditional jazz, Derrick and i grew up hearing that music almost exclusively in the house. My listening tastes branched out when i got into high school, but now that i'm older, i find myself returning to the old standards more and more. i'm not an expert, but you might be surprised how many standards i can sing along to. And i probably have as many opinions on jazz as i do on popular music.
That's just my way of prefacing the following helpful hints for those visitors here who may have one or more jazz lovers on your gift giving list. Trust annika. i've built a pretty decent CD collection over the years and since the standards, by definition, never go out of style, i'd like to share some of my wisdom with you. Here are my recommendations from out of my own collection. i could never get tired of listening to any CD on this list.

Big Bands:
Kansas City, Original Motion Picture Soundtrack - i never saw the movie, but this disk is full of loud, hella fun big band horns. The one Kevin Mahogany vocal is a highlight.
Slide Hampton & The Jazz Masters, Dedicated To Diz - i saw this band in concert at San Francisco's Masonic Hall. There's a back and forth battle of the high note trumpeters on one song that knocked me out when i heard it live. It is my number one favorite CD of my entire collection.

The Best of Woody Herman & His Big Band, The Concord Years - This one features a trombone version of Round Midnight. Yes, trombone. But it's one of the best versions of that song i've heard.

Count Basie At Newport - Basie, live. What more do you need to know? The all-star appearances include Lester Young, Jo Jones, Roy Eldridge and one of my favorite vocalists, the late Joe Williams.

Small Combos:
John Coltrane, My Favorite Things - The title song is my favorite Coltrane tune.
The Best of Bill Evans Live on Verve - A great selection of very romantic and soft piano standards.
Johnny Griffin, The Little Giant - i heard 63rd Street Theme on the radio once and i was compelled to rush to the nearest music store for this CD. i was not sorry. Puts me in the mood of being in the big city on a cold wintry day, i don't know why.
Wynton Marsalis, Standard Time, Vol.3: The Resolution Of Romance - One of the first jazz CDs i ever bought. Very romantic stuff, and brings back some nice personal memories every time i listen to it.

Vocals:

Mack The Knife, Ella In Berlin - This classic jazz recording shows why Ella was and always will be the best, ever. She puts on a clinic.

Carmen McRae, Carmen Sings Monk - Another classic jazz CD. The only way i can remember the names to any of Monk's instrumentals is to think about Carmen singing the words.
Sammy Davis Jr., The Sounds Of 66 - Anyone who likes Sammy will absolutely love this live recording from the Sands Hotel's Copa Room.
Mel Tormé, The Great American Songbook: Live at Michael's Pub - i got a ton of Mel Tormé, but this is my favorite.

Compilations, etc:
Duke Ellington, Reminiscing in Tempo - This is a great intro to the music of America's best composer. Some of it's in mono, but one of the stereo songs is an eight minute version of Come Sunday by Mahalia Jackson that brings tears to my eyes.
Frank Sinatra Sings The Select Rodgers & Hart - Every song is a winner.
The Essential Dinah Washington - My mom and Dad wore out the grooves to their Dinah Washington records when i was a kid, so when i finally bought my own CD, it was this one.
All The Things You Are: The Jerome Kern Songbook - Lots of different artists here; mostly hits and a few misses. But Ella's version of All The Things You Are is so beautiful i have to recommend it for that alone.
Posted by annika, Dec. 20, 2004 |
Rubric:
Arts