Lynx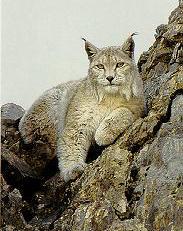 Tony gives us the good news and the bad news about changes at The Tonight Show.
Dawn debriefs us on her visit to Panama.
Congratulations to The Physics Geek family on their new little physics geeklette!
Jen resists the siren call of the waffle king.
Thomas Galvin picked last night's MNF winner, and a few others, too.
Moxie, Paul, and Kin are among the many bloggers making fun of Kerry's latest attempt to become (his words not mine) the second black president. And Ann Althouse provides a historical perspective on this issue.
It's Victor's birthday today! If he and Nic decide to go out for dinner, who do you think will be picking up the check?
i have to agree with Professor Hewitt on the great tie controversy. That thing is butt ugly. (scroll down to see it)
Posted by annika, Sep. 28, 2004 |
Rubric:
On The Blogosphere