Give 'Em Hell, Lance
i watched Lance power his way to the top of l'Alpe d'Huez tonight. He's not just winning, he's dominating and embarrassing the competition. He passed Ivan Basso, like he was standing still. And this was a time trial! They're racing against the clock. i didn't expect to see Lance lapping guys.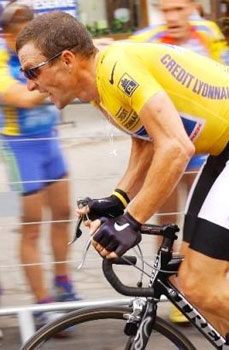 Lance in yellow, Tiger in green, pinstripes in October. It's like something you expect to see every year.
One disturbing thing about the Tour, though. It gets pretty crazy along the route, with fans jumping in front of the riders, waving flags, running alongside and trying to touch them. i saw a streaker during stage 13 last weekend. But on TV today, Lance said that people were spitting and throwing shit at the American riders. That's bad news.
There were lots of fans, and it was a little scary. To me, sincerely, it was not a good idea to have a time trial at l'Alpe d'Huez. It's over now but a lot of German fans were just disgusting. C'est la vie.
i wonder what Lance's left-wing girlfriend Cheryl Crow had to say about that display of America-hating. Stupid Germans. The race organizers really should try to control them, i'd hate to see someone get hurt.
Posted by annika, Jul. 21, 2004 |
Rubric:
Sports