Hey Gingrich Lovers...
You know who you are.
Look, I like Newt. Don't get me wrong. But you know what I like more? A Republican in the White House.
In the latest Gallup poll, which of the top candidates from both parties is the only one whose unfavorable rating is higher than their favorable rating. I'll give you a hint. It's not Hillary.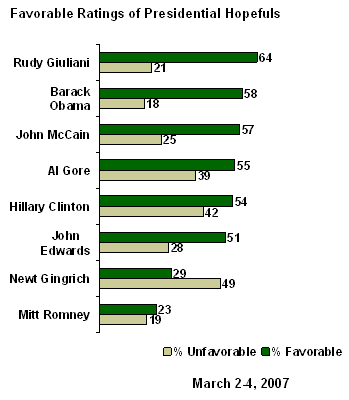 Okay, well maybe Newt hasn't been out in public enough. He should write some books. Check. He should go on Fox News. Check. He should call Hannity's show. Oh, check.
Okay, well at least there's twenty months between now and election day. That's plenty of time for Newt to change people's minds, right?
Oh, well, except that he's decided to save money by waiting until September before he gets in the race. And with a bunch of big states moving their primaries up to February 5th, that gives Newt only five months to change his image.
Okay, well maybe Newt can use the time between now and September to ramp up his public image. Do a full court press on the public. Show everybody what a great guy he is. He should start today. Give an interview with Dobson or somebody.
Oh, he did? Ouch. That's not exactly moving in the right direction, but it's a start, I guess.
Sorry Newt lovers. Stick a fork in the salamander, he's done.
h/t Hot Air
Posted by annika, Mar. 9, 2007 |
TrackBack (0)
Rubric:
annikapunditry