North Korea Options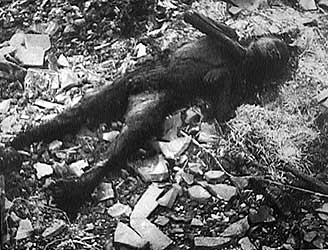 I chose the above picture as a reminder of what a nuclear bomb can do. That was a young boy, maybe twelve or thirteen, who was incinerated by "Little Boy" at Hiroshima.
I think it's highly irresponsible for various pundits, mostly on the right, but some on the left, to suggest that we must respond to North Korea's saber rattling with a military attack. It's irresponsible because now that Kim Jong-il has a nuclear arsenal (assuming the tests weren't faked) we can certainly expect that he will use it if attacked.
Two things are clear to me: We must use every effort to avoid war with North Korea, while at the same time we must use whatever means necessary to disarm Kim Jong-il. The little boy in the picture is the reason I believe this.
While I think diplomacy is usually a complete boondoggle, there are options that can be and should be employed before we go charging in with guns blazing where a madman controls nuclear weapons.
The North Korean situation is similar to the Iranian one, but not identical. And as you know, I don't support military action in Iran, yet. Regime change without an invasion is the least ugly of all the options in both theaters. It's probably an easier task against the Iranians, but in neither case do I see any concrete signs that the Bush Administration is doing anything to encourage internal opposition movements. As I've said before, I think that's a big mistake.
In regards to North Korea, it seems to me that we have an advantage that is not available to us against Iran. World opinion, and especially regional opinion, seems pretty united against North Korea. I think the reason China and Russia are willing to play along against Kim Jong-il is that the balance of power equation they are employing in Central Asia does not apply to the Korean Peninsula.
In other words, China and Russia have a strong interest in promoting Iran as a rival to U.S. power in the Middle East. It's the latest incarnation of the "Great Game." But the Asian powers have now realized that promoting North Korea as a balance to American Power in the Far East is a fool's game.
The goal of balance of power politics is to maintain regional stability, and a nuclear armed DPRK upsets the status quo — not a good thing for China and Russia. They know that if Japan wanted to, they could easily build their own nuclear arsenal, and each warhead would probably fit in the palm of your hand, work perfectly every time, and get great gas mileage to boot.
So if China and Russia can be persuaded to go along with a strong sanctions regime, combined with a "quarantine" of North Korea, I think that would be a great start. They might be willing to do so.
The next few months will be a major test for Condoleezza Rice. I think her tenure as Secretary of State has been pretty lackluster, but I'm much more impressed with John Bolton. If the State Department can get its act together, maybe they can forge an alliance among the regional powers. I'd like to see Australia join in too. I'm hopeful that a united front could successfully change North Korea's behavior.
Normally, I'm not a fan of sanctions. But this might be one of those rare situations where sanctions have some effect, mainly because of the unanimity of world opinion against North Korea. It reminds me of South Africa. Sanctions arguably helped end apartheid, and while that analogy only goes so far, it is interesting to note that South Africa is the only country to have developed nuclear weapons and then given them up voluntarily.
I favor an internal revolution as the best way to solve the Iranian crisis, but I don't see that idea working in North Korea. I have not heard of any opposition groups in that closed society. I think Kim Jong-il's regime is so repressive that they'd make Tian'anmen Square look like a company picnic.
I believe the best way to defuse the situation is to get China to use its influence against Kim Jong-il himself. China is the only party that can apply pressure against the dictator to get him to step down. We'll probably have to live with a nuclear armed North Korea, but if Kim Jong-il can be replaced with a moderate who won't threaten the whole region, everybody will be able to breathe a lot easier.
The North Korean dictator's latest flagrant defiance of the Security Council should offer enough cover for the Chinese to make Kim Jong-il an offer he can't refuse. China can offer Kim asylum, and they have the power to influence the selection of his successor. North Korea can then remain communist, but perhaps reform themselves along the lines of modern China. Sanctions might even eventually be lifted. Getting rid of Kim Jong-il is the key, and as I see it, China is our best hope to accomplish that end.
More: Fans of Kevin Kim know that he teaches something or other in South Korea (English I think). Here's his inimitable commentary on the scuttlebutt over there.
One student surprised me with her take on Kim Jong Il. "I sort of liked him until today," she said, "But now I hate him." I kept a poker face, but my guts were writhing and my testicles kept popping in and out of my body like turtle heads. My asshole started shrieking ultrasonically; little edible dogs screamed in response and then exploded outside our building (NB: I've decided to name any future canine pet "Yummy"). Liked Kim Jong Il?
By the way, Kevin tends to doubt that Kim Jong-il really has nukes yet. Some Koreans aren't above lying about important stuff. Look at how long Sun lied to Jin about knowing English.
Posted by annika, Oct. 9, 2006 |
TrackBack (0)
Rubric:
annikapunditry