Now We Know Why They Doctored The Photo
You may have been following the Reuters doctored photo controversy. If not, Beth has a great rundown.
Of course, my sources here at annika's journal came through for me again. Now we know why Reuters photographer Adnan Hajj felt the need to doctor the original photograph. Open the extended entry to view the original.
Sometimes smoke can form random patterns that are recognizable.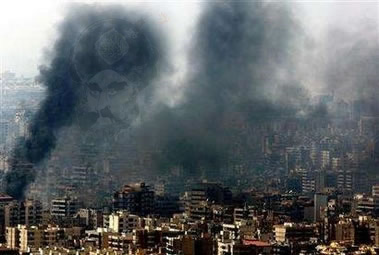 Lots of people have asked why this photographer would risk his career by crudely photoshopping the smoke in this particular picture. It makes sense now don't it?
Update: Now I'm all confused. What if this is the original photo?!
Posted by annika, Aug. 6, 2006 |
TrackBack (0)
Rubric:
annikapunditry