Another Way To Remember Memorial Day
Readers of annika's journal don't need to be reminded about Memorial Day, or what it stands for. But here's another way to honor those who died to preserve our freedom. Make your voice heard to save the Mt. Soledad Veterans Memorial Cross.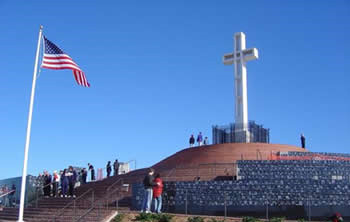 The Thomas More Law Center, which does such great pro bono public interest work, has prepared a letter asking the president to help preserve the Memorial Cross from efforts to destroy it by secular zealots.
I'm not exactly sure why a tiny group of chronic complainers feel so threatened by this cross and other symbols meant to honor our nation's heritage. But they won't stop until all traces of religious faith are erased from public sight. And then they'll find something else to destroy. They only reason they are succeeding is because they complain so loudly while we who disagree stay silent.
Posted by annika, May. 28, 2006 |
TrackBack (1)
Rubric:
annikapunditry