Bobby Darin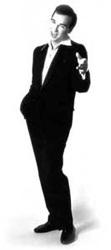 Today is Bobby Darin's birthday. He was born in 1936 as Walden Robert Cassotto. One of the greatest popular music records of all time is Darin's second LP, That's All. My dad had the original vinyl record. I say "had" because I stole it, and now I have it. Of course I can't play it, because I don't have a working record player, but so what. It's a collector's item.
The otherwise lackluster Kevin Spacey movie about Darin's life did a good job of showing how Darin changed from a bobby sox rocker to a Sinatra-esque swinger with the release of That's All. Every song is a gem, especially the most famous single to come off of that album, "Mack The Knife."
Dick Clark begged Darin not to record "Mack," but thankfully he went and did it anyways. Now, its become a jazz standard that even twenty-somethings like myself know by heart. What other song written by a communist (Bertolt Brecht) can you say that about?
On the back of That's All, they reprinted a telegram from Sammy Davis, Jr., which I love: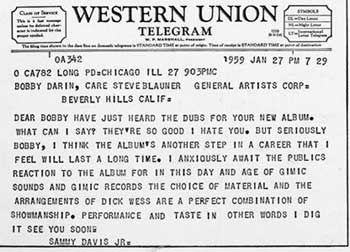 Really, when you talk about guys who could swing, the name Darin belongs right up there next to Frank and Sammy.
Posted by annika, May. 14, 2006 |
TrackBack (0)
Rubric:
Arts