MLBloggers Fantasy League Final Results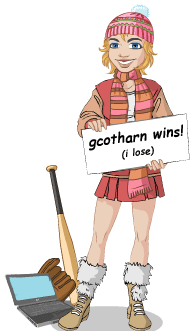 Well, the baseball season is now weeks over, and the Fall Classic is almost ready to start. i think sufficient time has passed and my embarrassment has waned enough for me to post about the final standings in my own fantasy baseball league, MLBloggers.
i started the league last spring and nine other fine bloggers signed up to play. i quickly plummeted to the bottom of the standings, where i stayed pretty much from wire to wire. But here are the final results:
Greg of The End Zone had Hank's Homey's, and finished in first place. Congratulations Greg! You now win the coveted annika's journal fantasy baseball memorial stein. As soon as i design and manufacture it. This is Greg's second annika's journal contest win. You might remember that he won the infamous Joe Don Baker haiku contest back in September '04. Interestingly, Greg says he had no experience in haiku or fantasy baseball before entering either contest. Greg, you might want to try tackling world hunger next. Give it a shot.
The Maximum Leader of Nakedvillainy came in second.
Paul of the now defunct Sanity's Edge came in third. He has returned to blogging, by the way.
Munuviana's elder statesman, Ted of Rocket Jones finished in fourth place, even though he's not a baseball fan.
Dawn Summers of Clareified came in fifth place with her East Coco Beach Metropolitans.
The Biloxi Turds of Matt from Irreverent Probity came in sixth.
Victor's Windbreakers finished seventh.
Resurrection Song's Zombyboy finished eighth with his Zombyesque Zombies.
And Physics Geek of Physics Geek finished ninth with his Physics Geeks;
And finally, there's my own annika's A's in last place.
Thanks to everyone for playing.
Posted by annika, Oct. 18, 2005 |
TrackBack (0)
Rubric:
Sports