A Subtle Kind Of Bigotry
It's a delicate subject, and i try not to write much about it. A white person always runs the risk of being called a racist, no matter what they say. Usually it happens when white people say that charges of racism are exagerrated or without merit. In the case of this post, i should be safe, because i plan to be the one making the charges.
i've noticed a special kind of subtle bigotry, very cleverly disguised. The folks who exhibit this new bigotry probably don't even realize their bias, and they'd probably deny it vehemently. The purveyors of the new bigotry that i'm talking about are mostly in the media and the academy.
A more obvious example that has gotten play recently is the infamous looting/finding controversy that arose from the troubles in New Orleans.
[T]wo news service photographs . . . showed persons wading through chest-deep water in the New Orleans area with supplies taken from grocery stores. Many viewers noticed the seeming disparity of the darker-skinned subject's being described in the accompanying caption as 'looting a grocery store,' while the lighter-skinned subjects were described as 'finding bread and soda from a local grocery store.'
Unlike many on my side of the political spectrum, i find the AFP's description of the "lighter-skinned" subjects as "finders," rather than "looters" to be pretty indefensible. Yes, i know there were two different news agencies involved. But the choice of words was a conscious decision, and the photographer's rationalizations ring sort of hollow, at least to my ears.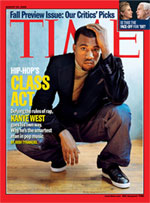 Still, i've noticed another type of more subtle bigotry lately. It's the condescending "some of my best friends are black" kind of bigotry that Time magazine showed, when they called Kanye West the "smartest man in pop music," and put him on the cover of their magazine.
Besides trying to show how hip they were, Time magazine's editors were also asking for approval with their backhanded compliment. Translated, what they meant to say was: "Look how non-racist we are. See, we think a black man can be smart too." Never mind that they picked a complete moron for their cover, as we saw last Friday. (And i'm making a totally non-partisan, objective observation. If articulation counts for anything, as the anti-Bush crowd continually tells us, Kanye is as dumb as a stump.)
A more obvious example to me is the way people in the media and academia so often refer to Martin Luther King, Jr. as Dr. King. When was the last time you heard a white guy with a Ph.D. referred to as Doctor so-and-so. You never hear anyone say Dr. Woodrow Wilson, for instance, and he was president of Princeton. Or how about Dr. Einstein? Or even Dr. Gingrich?
But you always hear people say "Doctor" King, which sounds so condescending. First of all there should be no question about MLK's intellect (and save your plagiarism comments for someone else. Just read "Letter from a Birmingham Jail" if you want proof.) But just like with Time Magazine and Kanye West, it's another way of saying "See, we think black people can be smart too."
It's not a question of respect. It's patronizing. MLK may have earned the right to have been called by his title, but i've yet to meet the Ph.D. who likes being called "doctor" outside of a formal lecture auditorium. In fact, King's friends called him Mike. i liked it better when the media called him Reverend, but of course now that's taboo because it implies that he might have believed in God.
But that's another kind of bigotry for another post.
Posted by annika, Sep. 6, 2005 |
TrackBack (1)
Rubric:
annikapunditry