Wednesday Is Poetry Day: The Submarine
Well, i'm back from San Diego. i ate too much food and got too much sun, but it was beautiful. My dad served on a carrier years ago, and we took a tour of the new USS Midway museum, which was fascinating. Lots to see for fans of Naval aviation, especially Vietnam era stuff. i'll post some pictures later. During the tour, i found this painting on a bulkhead in the forecastle.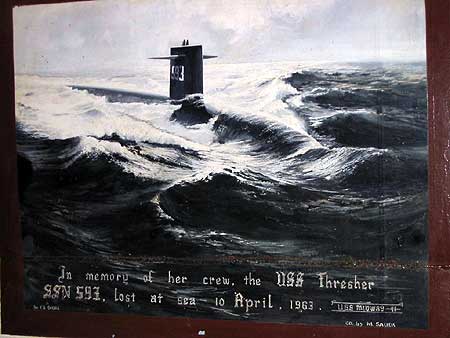 Here's a submarine poem by the 20th Century New Zealand poet Will Lawson.


The Submarine

The grey of Ocean's denseness
Surrounds her like a veil;
In silent deeps' immenseness
No laughing seas give hail;
But round her, rudely riven,
The sullen waters feel
Her stout hull, engine-driven,
A thrilling thing of steel
That cleaves a pathway under
The breakers' snarling lips—
That mocks the big guns' thunder
And scorns the battle-ships.

She goes by deeps and shallows
'Neath blue Australian seas,
Where never sun enhaloes
A wandering ocean breeze;
Yet, at her steersman's willing,
She lifts her stalk-like eye
To see the sunlight spilling
Its gold on sea and sky;
And, mirrored in fair colour,
The picture true is thrown
Where, in the sea-light duller,
Her spinning engines drone.

When, with her bearings taken,
She plunges deep again,
She is as one forsaken,
Beyond the world of men.
Yet living men tend truly
Her tanks' and air-valves' flow,
And oil her engines duly,
For it was ordered so—
Aye, tho' beyond the borders
Of human worlds they be,
Their orders still are orders,
And what avails the sea?

'Neath bright electrics glowing
They reck not that outside,
In age-long course, is flowing
The grey-green under-tide.
By periscope and needle
And pressure gauge they steer;
For who with steel can wheedle
As does the engineer,
In whose quick brain is hidden
The secrets of the stars—
Who on the storms has ridden,
And hurled the thunder-cars?

He hears the steady murmur
Of engines in the gloom.
Could deck or floor be firmer
Than his deep engine-room?
And he whose touch the rudders
Respond to like a child,
Calm, when she turns and shudders,
With silent mien and mild—
He makes new pathways under
The breakers' snarling lips;
He mocks the big guns' thunder
And scorns the battle-ships.

Posted by annika, Jul. 27, 2005 |
TrackBack (0)
Rubric:
Poetry