Supreme Court Update

WHITE HOUSE SAYS
CLEMENT NOT NOMINEE
Despite early reports today, speculation that right hander Matt Clement was picked to be the ninth man in the Supreme Court rotation are apparently untrue.
Sources within the administration, speaking on condition of anonymity, told annika's journal that Matt Clement was never under serious consideration.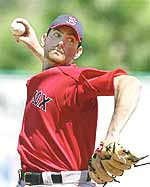 However, some experts say Clement would have been an awesome choice, despite his 4.21 ERA and mediocre WHIP. Said annika: "Heck, he's been on my fantasy team three years in a row. i don't know what kind of justice he'd make, but he's got ten wins and 101 K's this year. And the way my team's been doing, i've needed every damn one of 'em."
Developing . . .

Update: Speculation continues to circulate around Gonzalez as a possible nominee. Some pundits say President Bush is under pressure to nominate another Arizonan to replace Justice O'Connor, who grew up in Duncan, Arizona. However, some conservative activists are wary of the veteran outfielder for the Diamondbacks.
Said prominent right wing blogger annika: "Sure Luis throws right handed, but he bats lefty. And everytime i've seen him, he's way out in left field. Can we really trust him?"
Developing . . .

Update 2: The news is out! It's Roberts! i'm ecstatic. His stats aren't outrageous, but he's got good speed and was a quality guy when he played for the Dodgers. This year Dave's been a solid contributor to the first place Padre team. Democrats who wanted a center fielder should be happy with this lefty batter.
Developing . . .

[If there's a rule about beating a joke to death, you might want to invoke it now.]

Update 3: Preston wanted a justice with strings attached. Or someone who can pull all the right strings. Or something like that.
Posted by annika, Jul. 19, 2005 |
TrackBack (1)
Rubric:
Sports