Sucky CD Giveaway
i'm trying to clean out some stuff this afternoon and i found these in my closet. An old beau left them with me years ago. i hate throwing shit like this away. i could sell them on eBay, but that seems like a lot of trouble. So if anyone wants these six sucky CDs, i'll give them to you for free.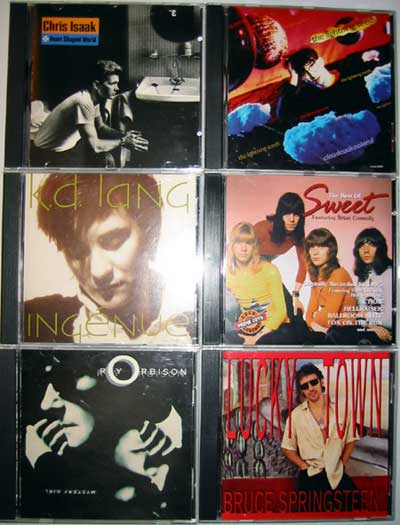 They are Chris Isaak's Heart Shaped World; The Lightning Seeds' Cloudcuckooland; k.d. lang's Ingénue; Sweet's The Best of Sweet; Roy Orbison's Mystery Girl; and Springsteen's Lucky Town. An eclectic mix.
Let me know if you want them by clicking here. Too late. We have a winner!
Posted by annika, Jun. 5, 2005 |
Rubric:
Arts