Poker Party Details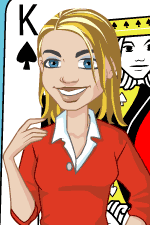 Come and check out annika's Blogversary Poker Party on Yahoo! Poker. Everyone is invited. Sit down and play a few hands, or just stop by to say hi. No money is involved, just bragging rights.
You have to have a Yahoo! id first. Then log on to Yahoo!, go to the Games page and click on Hold 'Em Poker in the Card Games menu. Then look for me in the room called "Angel." Sorry, i fucked up. i'll be in the room called "Social Lounge 2," at table 26, and i'll be using the Yahoo! id annikagyrl.
Hope to see you there!
Update: It's pretty busy in there. Social Lounge 2 is full. We're going to Beginner Lounge 2 now.

Update 2: Okay, it's full now too. Use this backdoor site, if you haven't given up yet. Click on Beginner Lounge 2.
Update 3: Well, that was pretty much a bust. Only Casca and Lawguy were able to get into the room before it closed. i got booted a few times, and even the backdoor was screwy. i never seen Yahoo! Games be so difficult. Oh well, sorry to everyone who tried but were unable to log on. Maybe next year.
Oh, i broke even, too.
Posted by annika, Mar. 9, 2005 |
Rubric:
On The Blogosphere