"But These Go To Eleven"
Does it make you mad that Dan Rather and CBS still insist that the Microsoft Word created forgery is not a forgery? Does it make you mad that they think they can so easily lie to America and get away with it?
Look at this animated gif file, created by the folks at Little Green Footballs, showing the CBS forgery and a Word document that you can create for yourself in just a few minutes.* As you can see, they are identical.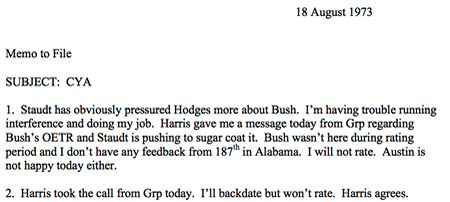 Now here's a detailed post at The Shape of Days, which shows the unsuccessful attempt to reproduce the memo on an early 70's IBM Selectric Composer, a typewriter that featured superscript and proportional font capabilities. The most interesting information is at the bottom of the post, regarding the difficulty in centering text on a 70's era machine.
[C]entering type is hard on the Selectric Composer. Two of the memos, May 4 and August 1, 1972, feature a three-line centered head. Each of those lines of type had to be centered by measuring it carefully, doing some math, then advancing the carrier to just the right point on the page. The margin for error would be pretty wide because type can be off by a few points in either direction and still look pretty well centered. It wouldn't be objectionable unless you went looking for it. So it wasn't necessary for Lt. Col. Killian — or his typist — to be millimeter-precise.

And yet … he was.
Contrast that with the ease and duplicability of the same task using Microsoft Word.
If Rather and CBS News are not liars and crooks, then they are morons and incompetents. Either way, their attempt to slander the President and to influence an election during wartime is so despicable that i think it's almost treasonous.
It takes only two seconds to click on the "Contact Us" link at CBS's website and demand that 1) Dan Rather resign and 2) CBS disclose who gave them the forged documents. If you have already done so once, it certainly wouldn't hurt to keep at it.
Please join me in this crusade. Click here to learn how.
Update: Bill at INDC Journal has information on how to let the Boston Globe know what you think of them, too.

* i've done this myself, on my own computer, using the default settings on Microsoft Word 2000. i now have in my possession an exact duplicate of the CYA memo. Perfectly congruent down to the tiny superscript characters. Try it on your own computer, it's fun.
Only a supreme fool or a liar would say that the CBS memos are not forgeries after having done this simple experiment. It is obviously impossible for Killian to have made the exact same mental choices about tab settings, and carriage returns on an analog mechanical typewriter as a digital computer program that had not yet been invented. Unless Killian was a time traveller, which according to the logic of CBS and Rather, is remotely possible and therefore a rational explanation.
Posted by annika, Sep. 13, 2004 |
Rubric:
annikapunditry