July 20, 1969
On July 20, 1969, an event which i argue is the greatest accomplishment in human history occurred.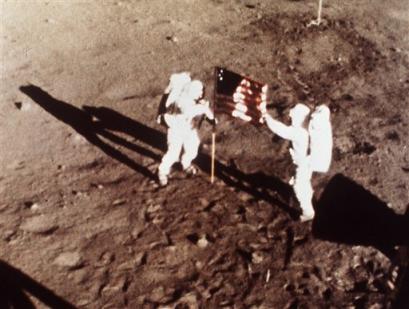 It was "one small step for [a] man, one giant leap for mankind," as Neil Armstrong said. But, it must also be said that no one but an American has ever been to the moon. And we have every right to be proud of that fact.
We did it with vacuum tube computers and slide rules. We did it in the days before fax machines and e-mail and pocket calculators. We did it before copy machines and PDAs and DVD drives and laptops. We did it with computers that filled a whole room but were slower than the computer i'm typing on right now.
And when the computer miscalculated on the descent to the lunar surface, one American took the controls and landed the damn thing himself.
Awesome.
On that historic day Associated Press reported:
Two Americans landed on the moon and explored its surface for some two hours Sunday, planting the first human footprints in its dusty soil. They raised their nation's flag and talked to their President on earth 240,000 miles away.
And the whole world watched.
Be proud.
Update: Has Ted forgotten about this anniversary?
Posted by annika, Jul. 20, 2004 |
Rubric:
History