Arion ater jacqchirac
Arion ater jacqchirac, a recently discovered pest, belongs to the family of spineless inverterbrates* which includes the garden slug. A voracious eater, it consumes indiscriminately and without gratitude. It secretes a disgusting oily slime that both lubricates its body and coats the path upon which it slithers.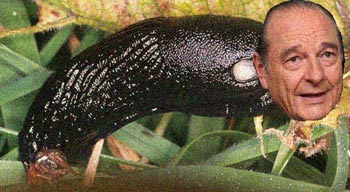 Its tiny vestigial shell is of no use in protecting A. jacqchirac, which is why it begs shamelessly for other animals to protect its weak ass whenever it feels threatened. These particular mollusks smell bad, yet think themselves handsome. They talk tough, but inevitably cower when challenged. If you come across one, try sprinkling a little salt in its path and watch the creature squirm in pain and frustration as it tries to find a way around the simple obstacle. They move slowly and never in the right direction.

* An invertebrate is an animal without a vertebral column, or spine. Literally, it's a creature without a backbone.
Posted by annika, Apr. 24, 2004 |
Rubric:
Annoying Subspecies Discoveries